---
Leviton VRCS4-MRZ Vizia-RF 4-Button Scene Controller with IR Remote Capability - White Ivory Light Almond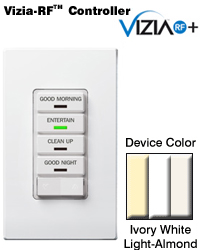 Vizia RF + 4-Button Scene Controller with Switch for Multi-Location Scene Control with IR Remote Capability. White face assembled on device, ivory and light almond faces included.
---
Includes All 3 Color Options
---
---
Product Features
To Buy Items from OneStopBuy, locate the Add to Cart button above.
For additional information or large order/international shipping quotes please complete the form below.