---
750MCM AWG Lead Wire Type SRK SF-2/SEW-2 UL 3231 - Tin Plated Copper - Silicone Rubber 200C - 600V - Black - Cut To Length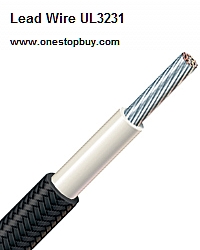 750MCM AWG Lead Wire Type SRK SF-2/SEW-2 UL 3231 - Stranded Tin Plated Copper 703 STR - Silicone Rubber Insulation 200C - 600V - Black - Cut To Length
This Item is not available at this time.

For additional help contact one of our experts via online chat, email, or phone at 1-877-633-5212.


750MCM AWG, UL3231, UL 3231, UL-3231, SRML, Silicon Rubber Motor Lead Wire, Appliance Wire, Equipment Wire, SF-2, SEWF-2, SEW-2, Black
---
Competitor Cross Reference:
FIRST CAPITOL WIRE & CABLE 10602700, RADIX WIRE CO KGG75T703-0000-AW000 , SOUTHWIRE COMPANY C07504 , Houston Wire & Cable HW055 75001
---
Product Features
| | |
| --- | --- |
| AWG Size: | 750MCM |
| Cable Type: | Type SRK SF-2/SEW-2 |
| Color: | Black |
| Conductor: | Tin Plated Copper |
| Conductor Stranding: | 703 |
| Insulation: | Silicone Rubber |
| Jacket: | Fiberglass Braid |
| Lbs./M: | 2715 |
| Length: | Cut to Length |
| No of Conductors: | 1 |
| Nom. Insulation Thickness: | .110 Inches |
| Nom. O.D.: | 1.49 Inches |
| Product Family: | Industrial Cable |
| Product Type: | Lead Wire |
| Solid/Stranded: | Stranded |
| Temp. Rating: | 200C |
| Type: | UL 3231 |
| UL: | 3231 |
| Voltage: | 600V |
* Free Shipping on Cut Cable must meet the following criteria: (1) Cable must be in stock at one of our warehouse facilities. (2) Shipments must be within the 48 Continental United States. Shipment method will be determined at the discretion of OneStopBuy.com. (3) Order must be placed with OneStopBuy.com by 3:00 PM Eastern Standard Time on normal business days, Monday - Friday, excluding holidays. (4) If "Liftgate Service" is required because the delivery point does not have dock high unloading capabilities, it will require an additional fee. This service must be requested at the time of order placement.
Returns of Cut-to-Length Cable - Typically, any cut length of cable is non-returnable. We go to extraordinary lengths to ensure that all cables are accurate to what is ordered, free from any defect and packaged in a manner so that no damage will occur in normal handling. Because of this, we rarely have any issues with cable returns. In the case where you have need to request a return, we will work to respond on a case-by-case basis to assist in this process. No returns are acceptable without prior authorization and an RGA number.
---
Note: While OneStopBuy.com has made every effort to comply with all specifications supplied to us, it is the customer's ultimate responsibility to verify that all quoted items meet required specifications prior to the placing of orders. If you will call us at 1-877-633-5212, we can verify these details for the specific cable that you are looking to purchase. All efforts are made to provide accurate data, which is supplied by the manufacturers themselves.
The data shown on this page is approximate and is subject to standard industry and manufacturer tolerances.
---