---
Leviton LT113-10W Advanced Digital Timer w/ Tethered Remote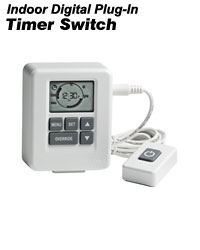 Have a Question?

Advanced Digital Plug-In Timer with Tethered Remote. 50 event settings per day; Program all days, weekdays, weekends; any day or combination of days. Random option for added security. Astronomical clock and automatic adjustment to Daylight Saving Time. Grounded plug and receptacle, 6 ft. cord on tethered remote. Color - White, UPC: 07847749073
This Item is not available at this time.

For additional help contact one of our experts via online chat, email, or phone at 1-877-633-5212.


Product Features
| | |
| --- | --- |
| Load Type: | All Load Types |
| Neutral: | Grounded |
| Time Range: | 50 Events Per Day |
| Timer Type: | Plug-In Advanced w/Tethered Remote |
To Buy Items from OneStopBuy, locate the Add to Cart button above.
For additional information or large order/international shipping quotes please complete the form below.