---
Leviton EVB22-3PT EVSE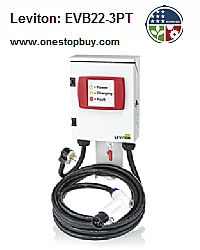 Have a Question?

Electric Vehicle Level 2 Charging Station 16 Amp-240VAC with NEMA 6-20P Input Plug and J1772 Output, 18/1 cable - White.
This Item is not available at this time.

For additional help contact one of our experts via online chat, email, or phone at 1-877-633-5212.


To Buy Items from OneStopBuy, locate the Add to Cart button above.
For additional information or large order/international shipping quotes please complete the form below.