Bussmann T Fuse Block Screw w/Clips and Springs CU Only 0-30 Amp

T300 (300V) fuse blocks for use with Class T fuses/(Cooper Bussmann JJN).

Construction:
Glass polyester, phenolic on 600A, UL.

Ratings:
CE, UL Listed UL512, Guide IZLT, File E14853, CSA Certified, Class 6225-01, File 47235.

Features and Benefits:
· Provide 1-, 2- and 3-pole housing for 300Vac Class T fuses.
· Short Circuit Current Rating of 200,000A RMS Sym.
· Class T fuse blocks have a small foot print, providing
substantial space savings in equipment

Typical Applications:
· 300V or less Control Systems
· 300V or less Individual Control Circuits

Dimensions:
See Dimensions illustrations.

Flammability Rating:
UL 94V0.

Poles:
1 to 4

Amps:
1/2/1930

Poles:
3

Fig. No.:
1

Wire Range:
CR #6-14 CU/AL

Dimensions (in): A:


Dimensions (in): B:


Dimensions (in): C: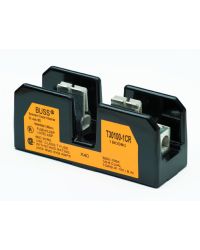 Have a Question?